Welcoming Remarks by the Head of Master's Program in Linguistics
Dr. Dra. Ni Wayan Sartini, M.Hum.
The Master's Program in Linguistics, Faculty of Humanities can be classified as a new program based on the Decree of Program Establishment No. 12611/UN3/ KR/2013 on 12 September 2013. Nevertheless, the Program was accredited by the National Accreditation Board of Indonesia No. 1128/SK/BAN-PT/ Akred/M/VII/2016 on 14 July 2016. In accordance with the vision, the Master's Program in Linguistics will continuously improve the learning-teaching process to produce competent intellectual graduates, personal and professional integrity that is harmonious with the development of science and technology and to compete internationally.
The curriculum of the Master's Program in Linguistics gives emphasis to culture in the studies, such as lexicography, translation, teaching, and interdisciplinary linguistics. The interdisciplinary linguistics study classified in macro linguistics is the traits of the Master's Program in Linguistics in the Cultural Linguistic studies, such as, Sociolinguistics, Psycholinguistics, Cross-Cultural Pragmatics, Critical Discourse Study, and Applied Linguistics.
One of the courses closely related to the studies is Corpus Linguistics. Corpus Linguistics can be used as one of the tools to analyze linguistic phenomena that become an excellent course in the Master's Program in Linguistics. With the various courses offered in the program, the students have the opportunity to choose courses of interest.
The lecturers of the Master's Program in Linguistics are competent graduates from various disciplines in the fields of lexicography, language teaching, pragmatics, sociolinguistics, psycholinguistics, and translation. Some of them are international researchers and have established cooperative work with agencies and academic institutions abroad. In accordance with the university international program, the Master's Program in Linguistics has admitted foreign students and explored the possibilities to cooperate with the universities in Australia and the Philippines. Domestic cooperation between the Master's Program in Linguistics with East Java Language Center, the Ministry of Education and Culture, Language Agency/Board has been performed as well. As part of graduate quality improvement and program development, the Master's Program in Linguistics has brought in domestic and international guest lecturers as well.
In its development, the Master's Program in Linguistics has obtained an enthusiastic response from the public. It is seen from the increasing numbers of applicants from and outside East Java who want to study further in this program. From year to year, the number of applicants is increasing and the competitive level in admitting new students is quite high. This is due to the curriculum model offered, the competence and reputation of the teaching staff and the favorable learning atmosphere. Hopefully, the Master's Program in Linguistics, Faculty of Humanities, Universitas Airlangga continues its onward march and develops as a definitely well-known program internationally.
NEWS
Dalam rangka menyambut mahasiswa baru jurusan Magister Ilmu Linguistik 2018, Himalingua akan mengadakan kegiatan GATMILA (Gathering Mahasiswa Ilmu...

Beberapa waktu lalu, pada tanggal 25 Agustus 2018, Himalingua 2017 mengadakan GATMILA sebagai salah satu kegiatan menyambut mahasiswa baru angkatan...

Meski terbilang paling muda dari lima program studi lain di Fakultas Ilmu Budaya (FIB) Universitas Airlangga, namun program studi magister (S2) Ilmu...

Pandemi Covid-19 yang membuat segala aktivitas menjadi berubah, karena pandemi ini membuat banyak aktivitas yang seharusnya bisa dilakukan secara...

Sebuah upaya untuk meningkatkan literasi masyarakat dalam menerima setiap informasi seputar covid-19, Prodi Ilmu Linguistik Fakultas Ilmu Budaya...

"Dengan adanya smartphone yang terhubung oleh internet, pembelajaran itu bisa dilakukan dimana saja dan kapan saja." Begitulah kalimat pembuka...

Maraknya hoax yang bergulir sepanjang tahun seputar Covid-19 menumbuhkan keresahan yang terus terjadi di masyarakat. Seluruh media seakan dijajah...
Webbinar Series E-Literasi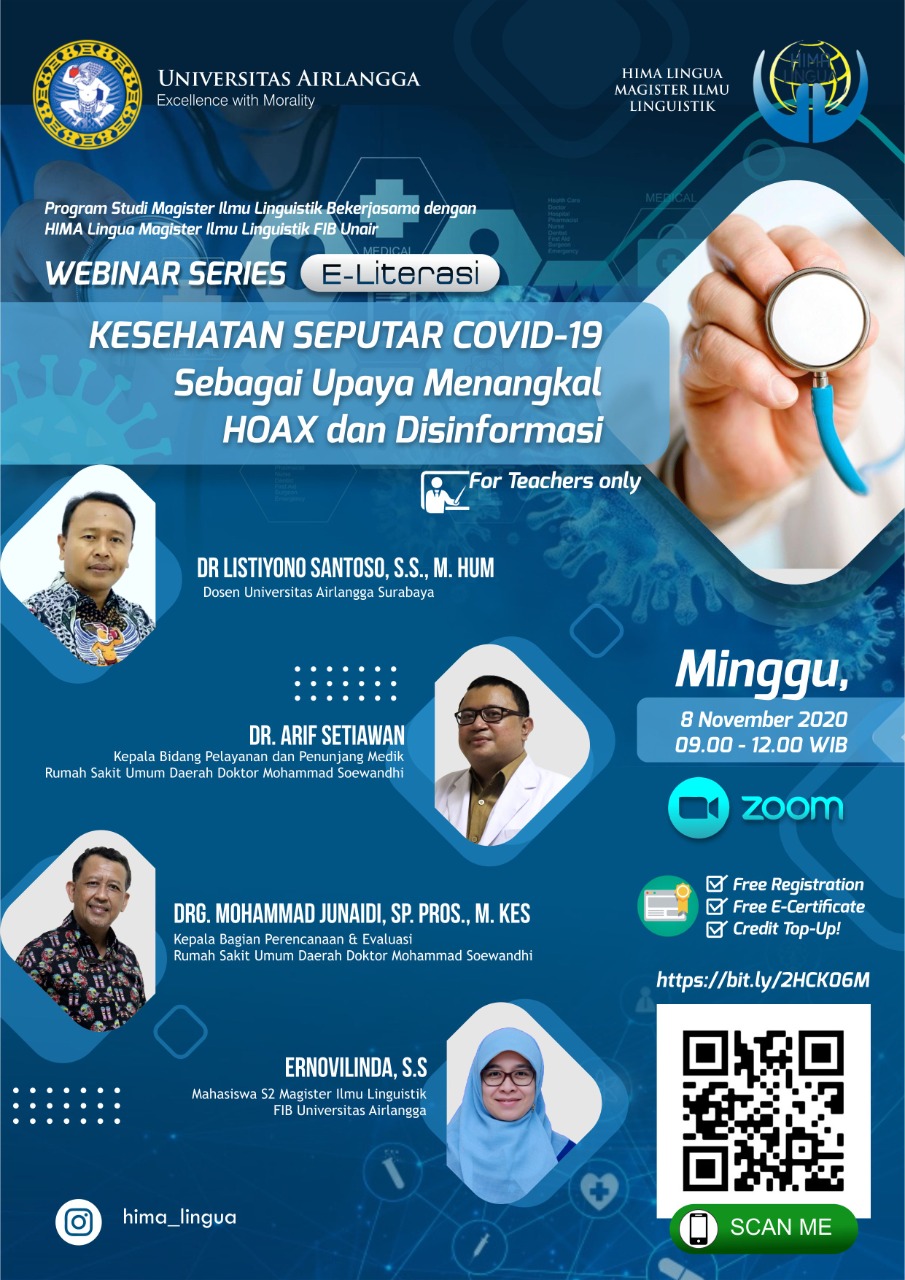 Caption For the Image
Bedah Thesis
Caption For the Image
E-Literasi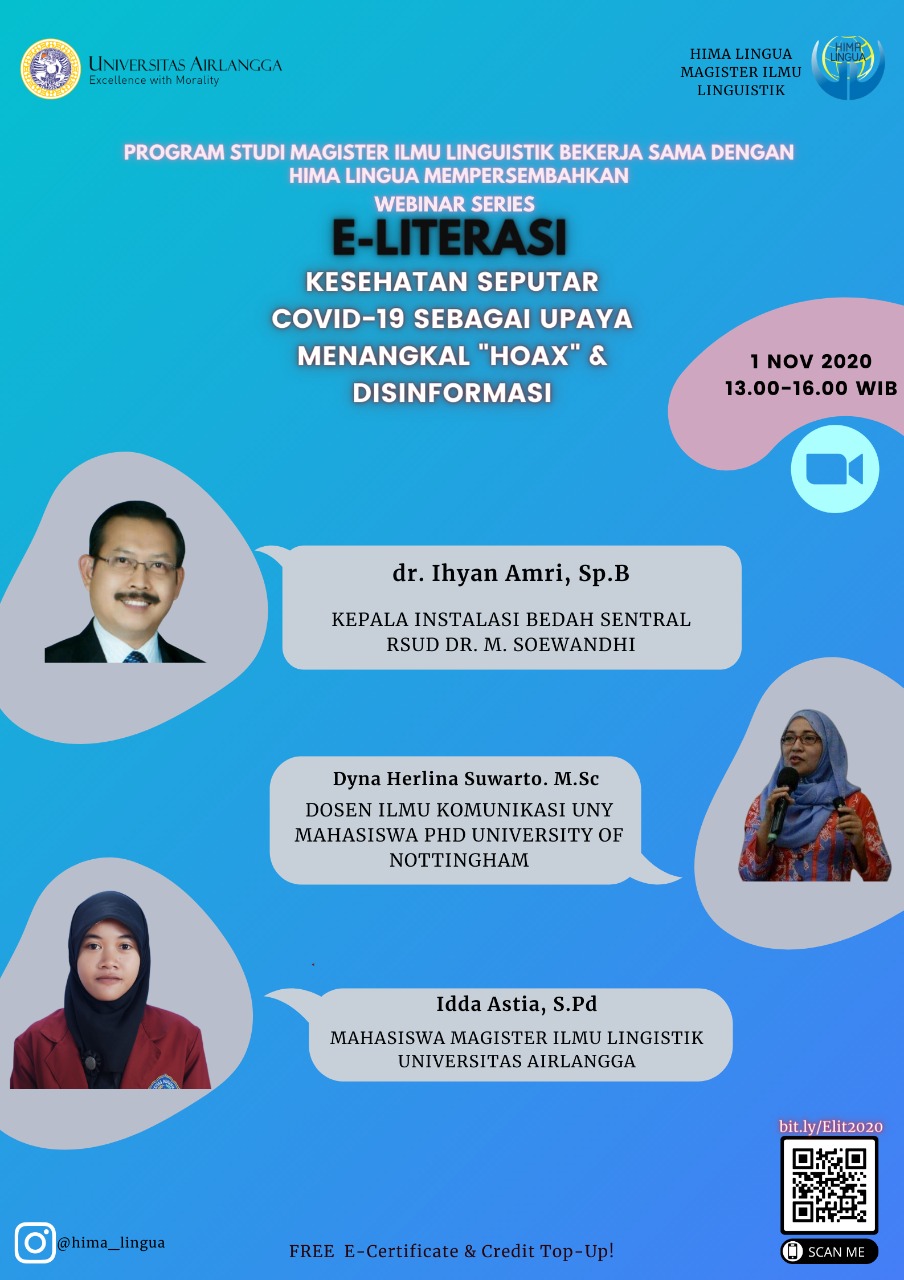 Caption For the Image
CALL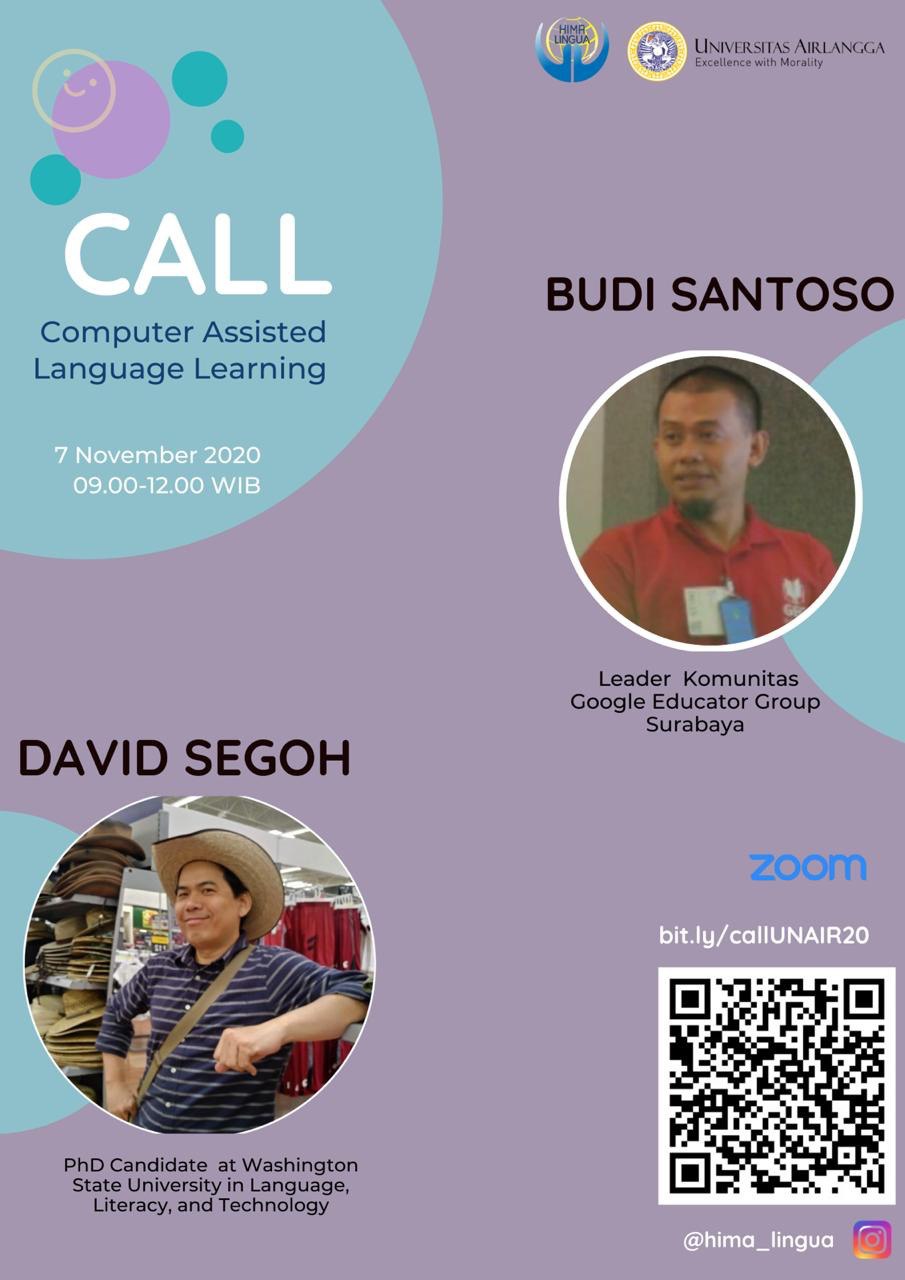 Caption For the Image